Tag:
corn
My neighbor Jessica made me the most delicious Slow Cooker Pork Posole and so I had to get the recipe to share with ...

This recipe for Slow Cooker Breakfast Burritos is not only delicious, it's also perfect for serving at brunch! Place the ingredients in a ...

The delicious blend of the ingredients in Slow Cooker Corn and Red Pepper Chowder will make you wish you had made a double ...

There are tons of great Chili recipes for the slow cooker, and I like this one because I love corn. Make Slow Cooker ...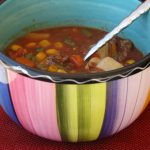 Great alternatives to HoBo Stew is you can make it with any kind of meat; venison, stew meat, sausage, chicken, and etc. Same ...

Meet Jenn Bare
Jenn is the founder of GetCrocked, the #1 resource for slow cooking with over 1.5 million online followers. She innovates recipes daily with her favorite tool in the kitchen, the Crock-Pot® slow cooker.
She innovates recipes daily...
Jenn Bare is a Mom, Chef & the Crock-Pot® Girl. She hosts a weekly "Mom Monday" segment on ABC-15 in Phoenix.
Crockpot Books
Get Crocked: Fast & Easy Slow Cooker Recipes