Tag:
corn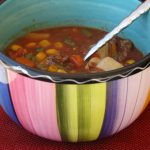 Great alternatives to HoBo Stew is you can make it with any kind of meat; venison, stew meat, sausage, chicken, and etc. Same ...
Get Recipe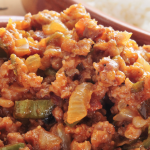 Looking for a delicious and hearty meal, look no longer as you will have it in this Slow Cooker Picadillo! Have to mention ...
Get Recipe
I recently created this delicious chili because I wanted to check out the new Crock-Pot Seasoning Mixes. I used the Original Chili Seasoning ...
Get Recipe
I really love this recipe for Slow Cooker Chipotle Black Bean Dip-it's really a crowd pleaser. The perfect appetizer to bring to a ...
Get Recipe
Slow Cooker Chili Mac and Cheese is also a kiddo favorite! I enjoy the cheesy noodles, and the blend of the delicious spices ...
Get Recipe
This is a family favorite, served at almost every special family gathering.  This is grandma's recipe for Slow Cooker Corn Cake Casserole and ...
Get Recipe
Meet Jenn Bare
Jenn is the founder of GetCrocked, the #1 resource for slow cooking with over 1.5 million online followers. She innovates recipes daily with her favorite tool in the kitchen, the Crock-Pot® slow cooker.
She innovates recipes daily...
Jenn Bare is a Mom, Chef & the Crock-Pot® Girl. She hosts a weekly "Mom Monday" segment on ABC-15 in Phoenix.
Crockpot Books
Get Crocked: Fast & Easy Slow Cooker Recipes