Tag:
ground turkey
I have so many good meatloaf recipes, and I am sure you will agree it is a great meal to serve family and ...

This recipe for Slow Cooker Cranberry-BBQ Turkey Meatballs is my go-to appetizer come holiday time!  The neighborhood kids always request these for any ...

Impress your friends with this healthy and flavorful Slow Cooker Clean Eating Turkey and Sweet Potato Chili at your next pot luck or ...

Slow Cooker Pizza Chili will meet all the needs of not only the adults but also the kiddos! ENJOY! Heat 1 T. Coconut ...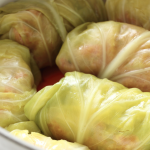 1. Cut cabbage in half and cut out core. Boil cabbage for 3-4 minutes. Peel off 12 large leaves and set aside. 2 ...

Meet Jenn Bare
Jenn is the founder of GetCrocked, the #1 resource for slow cooking with over 1.5 million online followers. She innovates recipes daily with her favorite tool in the kitchen, the Crock-Pot® slow cooker.
She innovates recipes daily...
Jenn Bare is a Mom, Chef & the Crock-Pot® Girl. She hosts a weekly "Mom Monday" segment on ABC-15 in Phoenix.
Crockpot Books
Get Crocked: Fast & Easy Slow Cooker Recipes