Tag:
milk
Ever wondered what to do with that leftover half loaf of French bread? Make this recipe! If the French bread is a bit ...
Get Recipe
Frittata's are so easy to make in the slow cooker, especially this Slow Cooker Spinach and Cheese Frittata! Ingredients I usually have on ...
Get Recipe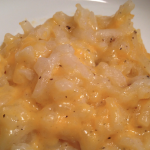 Love this when we go to Crocker Barrel, and so Happy to share the Slow Cooker COPYCAT Cracker Barrel Hash Brown Casserole with ...
Get Recipe
You know I love finding unconventional ways to use my slow cooker and my favorite new creation is Slow Cooker Iced Honey Lattes! ...
Get Recipe
Have you ever thought about having a fondue party with your friends or a special someone? If so you will definitely want to ...
Get Recipe
Meet Jenn Bare
Jenn is the founder of GetCrocked, the #1 resource for slow cooking with over 1.5 million online followers. She innovates recipes daily with her favorite tool in the kitchen, the Crock-Pot® slow cooker.
She innovates recipes daily...
Jenn Bare is a Mom, Chef & the Crock-Pot® Girl. She hosts a weekly "Mom Monday" segment on ABC-15 in Phoenix.
Crockpot Books
Get Crocked: Fast & Easy Slow Cooker Recipes