Tag:
milk
Ever wondered what to do with that leftover half loaf of French bread? Make this recipe! If the French bread is a bit ...

Frittata's are so easy to make in the slow cooker, especially this Slow Cooker Spinach and Cheese Frittata! Ingredients I usually have on ...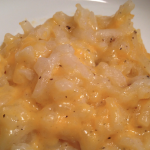 Love this when we go to Crocker Barrel, and so Happy to share the Slow Cooker COPYCAT Cracker Barrel Hash Brown Casserole with ...

You know I love finding unconventional ways to use my slow cooker and my favorite new creation is Slow Cooker Iced Honey Lattes! ...

Have you ever thought about having a fondue party with your friends or a special someone? If so you will definitely want to ...

Meet Jenn Bare
Jenn is the founder of GetCrocked, the #1 resource for slow cooking with over 1.5 million online followers. She innovates recipes daily with her favorite tool in the kitchen, the Crock-Pot® slow cooker.
She innovates recipes daily...
Jenn Bare is a Mom, Chef & the Crock-Pot® Girl. She hosts a weekly "Mom Monday" segment on ABC-15 in Phoenix.
Crockpot Books
Get Crocked: Fast & Easy Slow Cooker Recipes