Tag:
ribs
The title says it all Slow Cooker BEST EVER BBQ Ribs! Love this recipe as I can put it on early in the ...

Slow Cooker Great Barbecue Short Ribs are very TASTY! Remove excess fat and any bones from short ribs. Slice onion into 1/4 inch ...

Slow Cooker Baby Back Ribs are so delicious, and so easy to prepare! Great for the working family, as it can crock all ...

Reading through the recipe you will find you actually smell the aroma of the Slow Cooker Barbecue Pork Shoulder Ribs/Country Style Ribs! They ...

If you love this recipe for Slow Cooker Idaho Apple BBQ Ribs, click LIKE to vote for it in the CROCKER of the YEAR contest! ...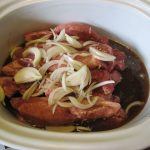 Brynne K. M. shared a family favorite recipe with all of us! Brynne says you can use this recipe with ribs, roast or ...

Meet Jenn Bare
Jenn is the founder of GetCrocked, the #1 resource for slow cooking with over 1.5 million online followers. She innovates recipes daily with her favorite tool in the kitchen, the Crock-Pot® slow cooker.
She innovates recipes daily...
Jenn Bare is a Mom, Chef & the Crock-Pot® Girl. She hosts a weekly "Mom Monday" segment on ABC-15 in Phoenix.
Crockpot Books
Get Crocked: Fast & Easy Slow Cooker Recipes