Tag:
sauce
Slow Cooker Teriyaki Sauce is so good, you'll never buy the bottled stuff again! With just a few simple ingredients, you can have ...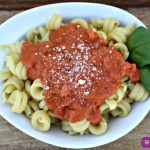 Sometimes I have a hard time deciding whether I'm in the mood for red sauce or white sauce on my pasta. Enter, Slow ...

This recipe for Slow Cooker Creamy Alfredo Sauce is the perfect accompaniment to your favorite pasta and is delicious with chicken, seafood or ...

It's true - I am a pasta fanatic! But nothing makes pasta better than homemade sauce - especially this Slow Cooker Beef Ragu ...

Combine these basic staple pantry ingredients together in the morning, and come home to a hearty sauce in the evening.  Easy and delicious! ...

Meet Jenn Bare
Jenn is the founder of GetCrocked, the #1 resource for slow cooking with over 1.5 million online followers. She innovates recipes daily with her favorite tool in the kitchen, the Crock-Pot® slow cooker.
She innovates recipes daily...
Jenn Bare is a Mom, Chef & the Crock-Pot® Girl. She hosts a weekly "Mom Monday" segment on ABC-15 in Phoenix.
Crockpot Books
Get Crocked: Fast & Easy Slow Cooker Recipes