Tag:
sauce
Enjoy a traditional dish of Slow Cooker Chop Suey over Rice! Combine first 6 ingredients in a 4-6 quart slow cooker and mix ...
Get Recipe
Facebook Friend, Mat M. shared his Slow Cooker Asian Beef and Noodles with Kung Pao Flavoring! Asian food is one of my favorite! ...
Get Recipe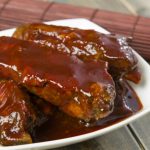 So many of you have been asking for more Chinese recipes so I came up with this one for Slow Cooker Chinese Boneless ...
Get Recipe
Slow Cooker Beer Cheese is incredible! Never a drop left! Great to serve for those sports parties, especially the super bowl! I like ...
Get Recipe
Heat the olive oil in a large skillet over medium heat. Cook and stir the sweet and hot Italian sausage until browned, about ...
Get Recipe
This homemade Slow Cooker Marinara Sauce is so delicious on any pasta - and it's even better the next day. I like to ...
Get Recipe
Meet Jenn Bare
Jenn is the founder of GetCrocked, the #1 resource for slow cooking with over 1.5 million online followers. She innovates recipes daily with her favorite tool in the kitchen, the Crock-Pot® slow cooker.
She innovates recipes daily...
Jenn Bare is a Mom, Chef & the Crock-Pot® Girl. She hosts a weekly "Mom Monday" segment on ABC-15 in Phoenix.
Crockpot Books
Get Crocked: Fast & Easy Slow Cooker Recipes