Tag:
sauce
Combine these basic staple pantry ingredients together in the morning, and come home to a hearty sauce in the evening.  Easy and delicious! ...
Get Recipe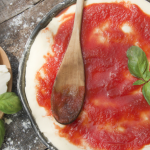 Minimal ingredients combine for delicious, rich restaurant-style flavor. This recipe is easily doubled or tripled if you like to can or freeze extra! ...
Get Recipe
The pumpkin adds a little zing to the regular Apple Butter recipe, so make this your next Apple Butter recipe.... Slow Cooker Pumpkin ...
Get Recipe
Slow Cooker Buffalo Chicken Pizza Loaf is a recipe you can make as hot as you want or as mild as you want! ...
Get Recipe
Slow Cooker Albondigas Soup (Meatball Soup) has a uniquely delicious flavor.  Be sure to not omit the mint as it is really what ...
Get Recipe
Dipping sauces are loved by just about everyone, and Slow Cooker Marinara Dipping Sauce (Copycat) from Pizza Hut is definitely a crowd pleaser! ...
Get Recipe
Meet Jenn Bare
Jenn is the founder of GetCrocked, the #1 resource for slow cooking with over 1.5 million online followers. She innovates recipes daily with her favorite tool in the kitchen, the Crock-Pot® slow cooker.
She innovates recipes daily...
Jenn Bare is a Mom, Chef & the Crock-Pot® Girl. She hosts a weekly "Mom Monday" segment on ABC-15 in Phoenix.
Crockpot Books
Get Crocked: Fast & Easy Slow Cooker Recipes