Tag:
side
This dish can be served as a main dish or a side dish! Cut zucchini into 3/4" pieces. Combine all ingredients in the ...
Get Recipe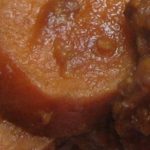 Cut sweet potatoes into one inch chunks and place in slow cooker. Combine brown sugar, first measure of butter, cinnamon, and apple sauce ...
Get Recipe
Mix together tapioca, sugar, salt, and water in slow cooker. Cover. Cook on High 3 hours, or until tapioca pearls are almost translucent ...
Get Recipe
Drain fruit. Pour canned fruit into slow cooker. Add bananas. Scatter cherries and walnuts on top. In skillet, melt margarine. Mix in sugar ...
Get Recipe
Meet Jenn Bare
Jenn is the founder of GetCrocked, the #1 resource for slow cooking with over 1.5 million online followers. She innovates recipes daily with her favorite tool in the kitchen, the Crock-Pot® slow cooker.
She innovates recipes daily...
Jenn Bare is a Mom, Chef & the Crock-Pot® Girl. She hosts a weekly "Mom Monday" segment on ABC-15 in Phoenix.
Crockpot Books
Get Crocked: Fast & Easy Slow Cooker Recipes