Tag:
squash
My family and I are a little carb-conscious these days and one way to get our pasta fix is to eat spaghetti squash ...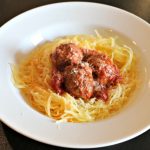 I recently made this Slow Cooker Spaghetti Squash & Meatballs for my family and they couldn't believe how delicious it was. You won't ...

On a recent ski trip I had the pleasure of warming up with some delicious soup. I loved the blend of vegetables and ...

Slow Cooker Tortellini Squash Stew is a delightful stew, full of flavor and delicious veggies! The key to this recipe is using fresh ...

A fantastic addition to your traditional Thanksgiving meal, this Slow Cooker Paleo Savory Squash will delight even your non-Paleo friends and family! Combine ...

Meet Jenn Bare
Jenn is the founder of GetCrocked, the #1 resource for slow cooking with over 1.5 million online followers. She innovates recipes daily with her favorite tool in the kitchen, the Crock-Pot® slow cooker.
She innovates recipes daily...
Jenn Bare is a Mom, Chef & the Crock-Pot® Girl. She hosts a weekly "Mom Monday" segment on ABC-15 in Phoenix.
Crockpot Books
Get Crocked: Fast & Easy Slow Cooker Recipes