beverages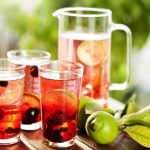 On a warm summer day, Slow Cooker Berry-Lemonade Tea is not only tasty, but when served over ice is also very refreshing! Place ...

There is nothing better in the fall than Slow Cooker Caramel Apple Cider! Wouldn't you agree..... In a 5 quart slow cooker, heat ...

One of my favorite things about this time of year is all of the yummy drinks there are to warm us up!  Slow ...

Slow Cooker Spice Sangria is sure to warm up your guests at that next holiday party--an easy, yet refined and original Winter cocktail ...

Slow Cooker Ginger-Lemon Hot Toddies are perfect for a chilly evening, or a perfect relaxing beverage in the evening! Mix water, lemon juice, ...

Mix all ingredients together in slow cooker. Turn to High and heat thoroughly (about 1 hour). Turn down to Low while serving. Happy ...

Meet Jenn Bare
Jenn is the founder of GetCrocked, the #1 resource for slow cooking with over 1.5 million online followers. She innovates recipes daily with her favorite tool in the kitchen, the Crock-Pot® slow cooker.
She innovates recipes daily...
Jenn Bare is a Mom, Chef & the Crock-Pot® Girl. She hosts a weekly "Mom Monday" segment on ABC-15 in Phoenix.
Crockpot Books
Get Crocked: Fast & Easy Slow Cooker Recipes