Halloween
Yummy flavor with both Pumpkin and Apple, and a great dessert to share with family and friends! Spray 3 1/2- to 6-quart slow ...
Get Recipe
Great to make Slow Cooker Party Mix ahead of time, and put it back in the crock pot to serve warm! A guest ...
Get Recipe
This is a favorite of the kids and we always make these prior to Halloween or any fall gatherings with friends. Everyone loves ...
Get Recipe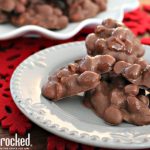 Put all ingredients in slow cooker; cook 1 hour on high. Do not stir. Turn slow cooker to Low and stir every 15 ...
Get Recipe
Very Yummy recipe, and one the kiddos will love too…Slow Cooker Baked Stuffed Apples! Wash, core and stem the apples, but don't peel ...
Get Recipe
If you like Pizza and you like Sloppy Joes, what better way to enjoy your favorites than to make Slow Cooker Pizza Sloppy ...
Get Recipe
Meet Jenn Bare
Jenn is the founder of GetCrocked, the #1 resource for slow cooking with over 1.5 million online followers. She innovates recipes daily with her favorite tool in the kitchen, the Crock-Pot® slow cooker.
She innovates recipes daily...
Jenn Bare is a Mom, Chef & the Crock-Pot® Girl. She hosts a weekly "Mom Monday" segment on ABC-15 in Phoenix.
Crockpot Books
Get Crocked: Fast & Easy Slow Cooker Recipes