sides
Combine kidney beans, red beans, peaches, onion and cooked bacon in a 4.5-quart slow cooker. In a small bowl, mix together tomato sauce, ...
Get Recipe
Slow Cooker Balsamic Collard Greens is definitely a dish for the south, and very tasty, although it is full of nutrition! Cook bacon ...
Get Recipe
When all the beautiful squash are fresh, I love to make Slow Cooker Stuffed Zucchini! Enjoy! This recipe is great especially when you ...
Get Recipe
I love Slow Cooker Mushroom Crostini not only as an appetizer, but even as a side with a wonderful dinner. This is one ...
Get Recipe
This Slow Cooker Cheesy Rice and Broccoli is a favorite come Holiday time. Sometimes, we like to add sliced mushrooms as well. Hope ...
Get Recipe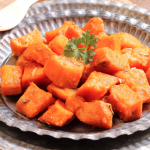 These sweet and savory Slow Cooker Clean Eating Sweet Potatoes will be sure to please a crowd an Thanksgiving or any occasion meal! ...
Get Recipe
Meet Jenn Bare
Jenn is the founder of GetCrocked, the #1 resource for slow cooking with over 1.5 million online followers. She innovates recipes daily with her favorite tool in the kitchen, the Crock-Pot® slow cooker.
She innovates recipes daily...
Jenn Bare is a Mom, Chef & the Crock-Pot® Girl. She hosts a weekly "Mom Monday" segment on ABC-15 in Phoenix.
Crockpot Books
Get Crocked: Fast & Easy Slow Cooker Recipes