sides
Slow Cooker Mushroom Wild Rice is a great side dish to have with so many dishes, but also good to eat by itself! ...
Get Recipe
Saute onions and peppers in oil in skillet until soft. Stir in mushrooms and garlic. Saute just until mushrooms begin to turn brown ...
Get Recipe
Combine all ingredients EXCEPT parsley and bacon in the slow cooker. Add salt and pepper to taste. Stir and cook for 5-6 hours ...
Get Recipe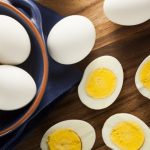 Put eggs into slow cooker. Cover with water. Cover. Cook on Low 3 1/2 hours. Eggs are perfectly done every time. Happy Crocking! ...
Get Recipe
Bring this amazingly easy side dish to your next family holiday gathering. Great with roasted turkey, chicken, ham, even lamb! Wash fresh cranberries, ...
Get Recipe
Slow Cooker Cheesy Cauliflower is delicious. It also makes a large amount and is great for potlucks or family gatherings! YUMMY! Add cauliflower, ...
Get Recipe
Meet Jenn Bare
Jenn is the founder of GetCrocked, the #1 resource for slow cooking with over 1.5 million online followers. She innovates recipes daily with her favorite tool in the kitchen, the Crock-Pot® slow cooker.
She innovates recipes daily...
Jenn Bare is a Mom, Chef & the Crock-Pot® Girl. She hosts a weekly "Mom Monday" segment on ABC-15 in Phoenix.
Crockpot Books
Get Crocked: Fast & Easy Slow Cooker Recipes