sides
In a skillet or slow cooker stoneware placed on stovetop set to medium heat, add bacon. Sauté bacon until crispy and remove with ...
Get Recipe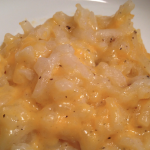 Love this when we go to Crocker Barrel, and so Happy to share the Slow Cooker COPYCAT Cracker Barrel Hash Brown Casserole with ...
Get Recipe
My favorite time of the year, and when I smell the wonderful aroma of pumpkin and cinnamon from the kitchen I can't help ...
Get Recipe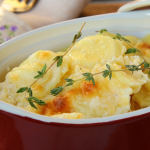 Pare and thinly slice potatoes. Toss slices in 1 cup water and 1/2 teaspoon cream of tartar. Drain. Put half of sliced potatoes ...
Get Recipe
When I make Slow Cooker Homemade Baked Beans, they bring back some childhood memories of when my parents had their famous BBQ's! Great ...
Get Recipe
This dish is ideal if you need to make room in the oven or on the counter come Thanksgiving Day. This traditional Slow ...
Get Recipe
Meet Jenn Bare
Jenn is the founder of GetCrocked, the #1 resource for slow cooking with over 1.5 million online followers. She innovates recipes daily with her favorite tool in the kitchen, the Crock-Pot® slow cooker.
She innovates recipes daily...
Jenn Bare is a Mom, Chef & the Crock-Pot® Girl. She hosts a weekly "Mom Monday" segment on ABC-15 in Phoenix.
Crockpot Books
Get Crocked: Fast & Easy Slow Cooker Recipes