vegetarian
Slow Cooker Pumpkin Latte 1 can be doubled and tripled for a larger group of people, you will just need to adjust the ...
Get Recipe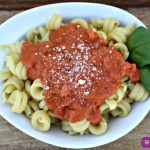 Sometimes I have a hard time deciding whether I'm in the mood for red sauce or white sauce on my pasta. Enter, Slow ...
Get Recipe
My favorite time of the year, and when I smell the wonderful aroma of pumpkin and cinnamon from the kitchen I can't help ...
Get Recipe
Never throw out a brown, mushy banana again!  I love recipes that use up things that might go to waste otherwise - like ...
Get Recipe
Definitely love this as a summer dessert recipe! You can make it with frozen Rhubarb too, but always best when it is fresh ...
Get Recipe
Slow Cooker Bourbon Spiked Pumpkin Bread Pudding is a perfect dessert for the holidays in the fall! Delicious! Press half the bread cubes ...
Get Recipe
Meet Jenn Bare
Jenn is the founder of GetCrocked, the #1 resource for slow cooking with over 1.5 million online followers. She innovates recipes daily with her favorite tool in the kitchen, the Crock-Pot® slow cooker.
She innovates recipes daily...
Jenn Bare is a Mom, Chef & the Crock-Pot® Girl. She hosts a weekly "Mom Monday" segment on ABC-15 in Phoenix.
Crockpot Books
Get Crocked: Fast & Easy Slow Cooker Recipes