vegetarian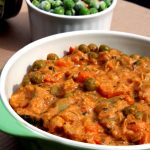 Add all ingredients EXCEPT the peas in the slow cooker. Stir well. Cover and crock on LOW for about 8 hours. Add the ...
Get Recipe
Breakfast of champions?  Check.  Feed the chocolate craving first thing in the morning? Check. Slow Cooker "Gluten Free" Hot Cocoa Oatmeal is a ...
Get Recipe
Slow Cooker Autumn Brew is perfect for all the fall festivals, parties, or just to serve at home for your family. YUMMY! Pour ...
Get Recipe
This holiday... a must have would be Figgy Pudding, and now you can make Slow Cooker Figgy Pudding otherwise know as Christmas Pudding ...
Get Recipe
This is an easy and decadent desert that you will enjoy serving to family and guests! In a 4 quart slow cooker, place ...
Get Recipe
I love a Mocha, and love to put Slow Cooker Mocha on before I serve our guests dinner, so we can enjoy a ...
Get Recipe
Meet Jenn Bare
Jenn is the founder of GetCrocked, the #1 resource for slow cooking with over 1.5 million online followers. She innovates recipes daily with her favorite tool in the kitchen, the Crock-Pot® slow cooker.
She innovates recipes daily...
Jenn Bare is a Mom, Chef & the Crock-Pot® Girl. She hosts a weekly "Mom Monday" segment on ABC-15 in Phoenix.
Crockpot Books
Get Crocked: Fast & Easy Slow Cooker Recipes