Tag:
asian
Slow Cooker Asian Glazed Chicken Wings are the perfect appetizer for tailgating, Superbowl, or Potluck!  An ooey-gooey-sticky chicken wing snack! Place chicken wings ...

Warning:  You will devour these Asian-flavored ribs in seconds!  Good thing it only takes a few minutes to prepare these amazing ribs. Place ...

A weeknight meal you can easily prep in the morning, with minimal effort and ingredients. Come home to a tasty Asain dinner! Oil ...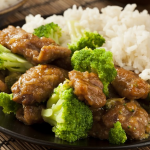 Slow Cooker Beef & Broccoli is a real keeper, and the Oyster sauce is a key flavor in this recipe! Why go out to ...

This Slow Cooker Asian Glazed Chicken is full of flavor and yet so easy to prepare.  I serve it with rice and sometimes saute ...

Facebook Friend, Mat M. shared his Slow Cooker Asian Beef and Noodles with Kung Pao Flavoring! Asian food is one of my favorite! ...

Meet Jenn Bare
Jenn is the founder of GetCrocked, the #1 resource for slow cooking with over 1.5 million online followers. She innovates recipes daily with her favorite tool in the kitchen, the Crock-Pot® slow cooker.
She innovates recipes daily...
Jenn Bare is a Mom, Chef & the Crock-Pot® Girl. She hosts a weekly "Mom Monday" segment on ABC-15 in Phoenix.
Crockpot Books
Get Crocked: Fast & Easy Slow Cooker Recipes