Tag:
brown sugar
What is your favorite cobbler? One of mine would be Cherry, but I could see this made with any fruit as a cobbler ...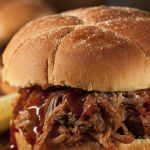 This recipe for Slow Cooker Loose Meat Beef BBQ will make your family or guests come back for more. So GOOD! Love making ...

Our family really loves a nice ham dinner come Holiday time.  The best part?  It's easy, and everyone enjoys this flavorful, moist, and ...

--> Looking for the Slow Cooker Maple Salmon?  Click HERE! I just love the simplicity of this recipe!  Slow Cooker Maple Brown Sugar ...

I am never disappointed with Slow Cooker Apple Crumble! Delicious! Reminds me of my youth and the family get togethers, and we would ...

Meet Jenn Bare
Jenn is the founder of GetCrocked, the #1 resource for slow cooking with over 1.5 million online followers. She innovates recipes daily with her favorite tool in the kitchen, the Crock-Pot® slow cooker.
She innovates recipes daily...
Jenn Bare is a Mom, Chef & the Crock-Pot® Girl. She hosts a weekly "Mom Monday" segment on ABC-15 in Phoenix.
Crockpot Books
Get Crocked: Fast & Easy Slow Cooker Recipes