Tag:
celery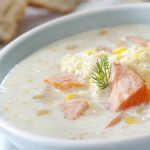 Salmon is one of my favorite, and when I found this recipe, I knew it would be AWESOME! Slow Cooker Salmon Chowder is ...

This dish is ideal if you need to make room in the oven or on the counter come Thanksgiving Day. This traditional Slow ...

Thanks to Cheryl C. for sharing her recipe for Slow Cooker Chicken Corn Chowder! Sounds AWESOME! In a large skillet, melt the butter ...

Slow Cooker Fall Harvest Chowder is as delicious as it sounds. The family will be wanting you to make this all the time ...

Chili is a favorite during the fall season, Slow Cooker Copycat Wendy's Chili is just one of the many that are favorites! Makes ...

So good.... Slow Cooker Potato and Leek Soup is delicious! The Leeks add so much to this soup, and will become a family ...

Meet Jenn Bare
Jenn is the founder of GetCrocked, the #1 resource for slow cooking with over 1.5 million online followers. She innovates recipes daily with her favorite tool in the kitchen, the Crock-Pot® slow cooker.
She innovates recipes daily...
Jenn Bare is a Mom, Chef & the Crock-Pot® Girl. She hosts a weekly "Mom Monday" segment on ABC-15 in Phoenix.
Crockpot Books
Get Crocked: Fast & Easy Slow Cooker Recipes