Tag:
cinnamon
Take that boring old roast up a notch with this deeply flavorful sauce made with coffee, cinnamon, orange zest, and pure maple syrup ...
Get Recipe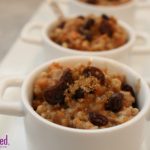 Adriana P. F. was kind enough to share her recipe for Slow Cooker Carrot Cake Oatmeal on my Facebook page. She said it ...
Get Recipe
Crock Pot Easy Apple Streusel is a delicious dessert and so easy to make!  It's tasty enough to impress any guests and easy ...
Get Recipe
Slow Cooker Granola Breakfast Casserole is one of the recipes from my eBook, but I wanted to share with all of you to ...
Get Recipe
I love Apple Butter, and I like home made the best! Slow Cooker Overnight Apple Butter is wonderful, so good served on an ...
Get Recipe
Love EASY recipes, and using frozen chicken makes Slow Cooker Cinnamon Italian Chicken simple but you will love the flavor! Place frozen chicken ...
Get Recipe
Meet Jenn Bare
Jenn is the founder of GetCrocked, the #1 resource for slow cooking with over 1.5 million online followers. She innovates recipes daily with her favorite tool in the kitchen, the Crock-Pot® slow cooker.
She innovates recipes daily...
Jenn Bare is a Mom, Chef & the Crock-Pot® Girl. She hosts a weekly "Mom Monday" segment on ABC-15 in Phoenix.
Crockpot Books
Get Crocked: Fast & Easy Slow Cooker Recipes