Tag:
eggs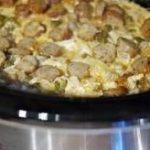 Place unopened bag of frozen hash browns on a work surface and press on bag to loosen potato pieces and eliminating any large ...

A Southwestern breakfast classic, packed with flavor. Serve with corn tortillas and refried beans or black beans for a real authentic touch. Combine ...

Lightly coat your slow cooker with cooking spray. Scatter half of the cheese in the bottom of the slow cooker, and layer the ...

This Italian-style breakfast is a great alternative for vegetarians. Complete Slow Cooker Fresh Vegetables & Three Cheese Frittata with fresh fruit, toast and ...

Slow Cooker French Toast is just another great breakfast alternative. Enjoy! Use a 5 - 6 quart slow cooker when making this recipe ...

This recipe for Slow Cooker Breakfast Casserole is one of my favorites! The fresh veggies along with hash browns, eggs, cheese and your ...

Meet Jenn Bare
Jenn is the founder of GetCrocked, the #1 resource for slow cooking with over 1.5 million online followers. She innovates recipes daily with her favorite tool in the kitchen, the Crock-Pot® slow cooker.
She innovates recipes daily...
Jenn Bare is a Mom, Chef & the Crock-Pot® Girl. She hosts a weekly "Mom Monday" segment on ABC-15 in Phoenix.
Crockpot Books
Get Crocked: Fast & Easy Slow Cooker Recipes