Tag:
pasta
Serving an Italian dish is a favorite at my house, an Slow Cooker Ravioli is usually among the mix! Combine all ingredients EXCEPT ...
Get Recipe
Place all ingredients EXCEPT spaghetti in the slow cooker. Cover. Cook on Low for 4 hours or until veggies are tender. Turn slow ...
Get Recipe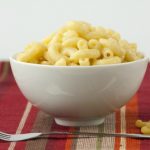 Spray the inside of your slow cooker with cooking spray or grease it with olive oil. Combine milk, evaporated milk, eggs, butter, and ...
Get Recipe
Slow Cooker Chicken Parmesan is one of my favorite "healthier" Italian dishes.  Carb-concious crockers can omit the bread crumbs and instead just dredge ...
Get Recipe
Creamy chicken recipes are so delicious, and Slow Cooker Creamy Italian Chicken will not be a disappointment! Set slow cooker to low and ...
Get Recipe
My father-in-law says this Slow Cooker Easy Eggplant Parmesan is as good as any he has ever had in any Italian restaurant. Spray ...
Get Recipe
Meet Jenn Bare
Jenn is the founder of GetCrocked, the #1 resource for slow cooking with over 1.5 million online followers. She innovates recipes daily with her favorite tool in the kitchen, the Crock-Pot® slow cooker.
She innovates recipes daily...
Jenn Bare is a Mom, Chef & the Crock-Pot® Girl. She hosts a weekly "Mom Monday" segment on ABC-15 in Phoenix.
Crockpot Books
Get Crocked: Fast & Easy Slow Cooker Recipes