Tag:
pork
Ahh, the flavors of the Caribbean.  If you have ever had the pleasure to travel to this area, you crave the spicy, sweet ...

If you are looking for a sweet yet spicy recipe for your next Mexican dinner, you will love Slow Cooker Pork Barbacoa.. YUMMY! ...

Warning:  You will devour these Asian-flavored ribs in seconds!  Good thing it only takes a few minutes to prepare these amazing ribs. Place ...

Mexican flavors give this Paleo-friendly recipe the bold flavors you crave without sweating in the kitchen. These Slow Cooker Paleo Salsalita Pork Chops ...

Ahh! The scents of Autumn are abundant in this healthy Pork Tenderloin. Soon to become a Fall favorite in any home! Mix together ...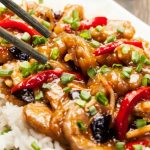 When you are looking for a Delicious recipe, you must make Slow Cooker Delicious Sweet and Sour Pork. The pineapple mixed wth all ...

Meet Jenn Bare
Jenn is the founder of GetCrocked, the #1 resource for slow cooking with over 1.5 million online followers. She innovates recipes daily with her favorite tool in the kitchen, the Crock-Pot® slow cooker.
She innovates recipes daily...
Jenn Bare is a Mom, Chef & the Crock-Pot® Girl. She hosts a weekly "Mom Monday" segment on ABC-15 in Phoenix.
Crockpot Books
Get Crocked: Fast & Easy Slow Cooker Recipes