Tag:
potatoes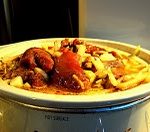 In a slow cooker, place the squirrel meat, potatoes, carrots, green bell pepper, onions, water, cabbage, salt and ground black pepper. Cover. Cook ...

I made this for the first time several years ago, and now I make Slow Cooker Chicken Stew with Potatoes, every fall. I ...

This recipe for Slow Cooker Breakfast Casserole is one of my favorites! The fresh veggies along with hash browns, eggs, cheese and your ...

Talking about a comfort meal! Slow Cooker Potato Sausage Supper will tick all the boxes. Enjoy! In a greased 5-qt. slow cooker; layer ...

When I have left over baked potatoes, I always go to my got to soup, and that would be Baked Potato Soup in ...

Lightly butter a 3 1/2 or 4-quart slow cooker. Sprinkle about 1/4 of the potatoes in the slow cooker, followed by 1/3 of ...

Meet Jenn Bare
Jenn is the founder of GetCrocked, the #1 resource for slow cooking with over 1.5 million online followers. She innovates recipes daily with her favorite tool in the kitchen, the Crock-Pot® slow cooker.
She innovates recipes daily...
Jenn Bare is a Mom, Chef & the Crock-Pot® Girl. She hosts a weekly "Mom Monday" segment on ABC-15 in Phoenix.
Crockpot Books
Get Crocked: Fast & Easy Slow Cooker Recipes