Tag:
spicy
My sister recently visited and shared her recipe for Slow Cooker Spicy Steak Fajitas. They have the perfect level of spice. We all ...

Football fan? The big game is nearly upon us and this year the NFL's Denver Broncos can be represented at your party with ...

This recipe for Slow Cooker Sweet & Spicy Raspberry Honey Mustard Dip is my new favorite! Not only is it an easy and ...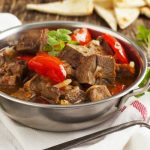 This delicious and EASY Slow Cooker Paleo Lamb Stew is unique and full of flavor! Lamb is so delicious when slow cooked but ...

I love discovering new foods that, maybe just a few years ago, I would have never tried!  The crock is the absolute perfect ...

Meet Jenn Bare
Jenn is the founder of GetCrocked, the #1 resource for slow cooking with over 1.5 million online followers. She innovates recipes daily with her favorite tool in the kitchen, the Crock-Pot® slow cooker.
She innovates recipes daily...
Jenn Bare is a Mom, Chef & the Crock-Pot® Girl. She hosts a weekly "Mom Monday" segment on ABC-15 in Phoenix.
Crockpot Books
Get Crocked: Fast & Easy Slow Cooker Recipes