Tag:
tomato paste
This is a delicious Spanish recipe, and one that is especially popular in Cuba. It is delicious, and you will truly enjoy the ...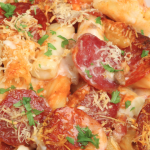 Our Slow Cooker Pizza Pasta is a go-to for sleep-overs, kids' parties, and weeknight meals!  This dish's ingredients can also be tailored to ...

Slow Cooker Caribbean Black Bean Soup is not only delicious it is also very Healthy! Enjoy! In a skillet over medium-high heat; add ...

A pot roast is one of those meals you can eat whenever, and Slow Cooker Family Pot Roast is so delicious, and your ...

When you think of comfort food, you will certainly be thinking of Slow Cooker Best-Ever Beef Stew! YUMMY! In a skillet and a ...

Meet Jenn Bare
Jenn is the founder of GetCrocked, the #1 resource for slow cooking with over 1.5 million online followers. She innovates recipes daily with her favorite tool in the kitchen, the Crock-Pot® slow cooker.
She innovates recipes daily...
Jenn Bare is a Mom, Chef & the Crock-Pot® Girl. She hosts a weekly "Mom Monday" segment on ABC-15 in Phoenix.
Crockpot Books
Get Crocked: Fast & Easy Slow Cooker Recipes