Tag:
vegetable
For all Brussels Sprouts lovers, you must make Slow Cooker Dijon Mustard Brussels Sprouts! Trim and wash sprouts. Cut in half. Place sprouts ...
Get Recipe
Great soup recipe for Slow Cooker Split Pea Soup! Combine broth, water, peas, celery, carrot, onion, thyme, red pepper and bay leaf in ...
Get Recipe
Enjoy a traditional dish of Slow Cooker Chop Suey over Rice! Combine first 6 ingredients in a 4-6 quart slow cooker and mix ...
Get Recipe
Facebook Friend, Mat M. shared his Slow Cooker Asian Beef and Noodles with Kung Pao Flavoring! Asian food is one of my favorite! ...
Get Recipe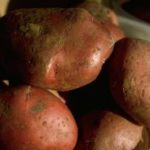 Slow Cooker Broasted New Red Potatoes is an easy and zesty recipe that will be a great addition to your next dinner. Wash ...
Get Recipe
For all those Seafood Lovers... you must make this, Slow Cooker Fisherman's Cioppino Stew! This recipe is from a friend, Will, in San ...
Get Recipe
Meet Jenn Bare
Jenn is the founder of GetCrocked, the #1 resource for slow cooking with over 1.5 million online followers. She innovates recipes daily with her favorite tool in the kitchen, the Crock-Pot® slow cooker.
She innovates recipes daily...
Jenn Bare is a Mom, Chef & the Crock-Pot® Girl. She hosts a weekly "Mom Monday" segment on ABC-15 in Phoenix.
Crockpot Books
Get Crocked: Fast & Easy Slow Cooker Recipes