appetizers
Great to make Slow Cooker Party Mix ahead of time, and put it back in the crock pot to serve warm! A guest ...
Get Recipe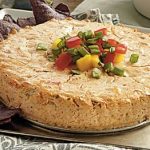 For your next party or get together, surprise your guests with Slow Cooker Salsa Cheesecake and serve with your favorite tortilla chips. Great ...
Get Recipe
TIPS and TRICKS Have you ever bought frozen bread and forgot to pull it out of the freezer? Of course it takes all ...
Get Recipe
A super easy weeknight meal or stress-free dinner party meal - Slow Cooker Paleo Mangia! Italian Meatballs!  Who doesn't love a good meatball?! ...
Get Recipe
If you like Spinach, you must make Slow Cooker Creamed Spinach as it is cheesy and crunchy and fresh-tasting all at the same ...
Get Recipe
Slow Cooker Cheesy Spinach Crab Dip is just one more dip you MUST MAKE! It is YUMMY! Thaw spinach and place in a ...
Get Recipe
Meet Jenn Bare
Jenn is the founder of GetCrocked, the #1 resource for slow cooking with over 1.5 million online followers. She innovates recipes daily with her favorite tool in the kitchen, the Crock-Pot® slow cooker.
She innovates recipes daily...
Jenn Bare is a Mom, Chef & the Crock-Pot® Girl. She hosts a weekly "Mom Monday" segment on ABC-15 in Phoenix.
Crockpot Books
Get Crocked: Fast & Easy Slow Cooker Recipes