desserts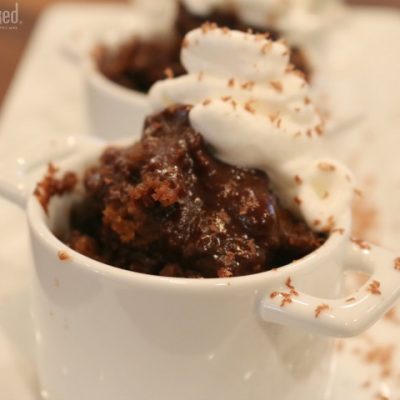 I love this Slow Cooker Hot Fudge Peanut Butter Pudding Cake for so many reasons.  First - peanut butter & chocolate...need I say ...
Get Recipe
You had me at Triple Chocolate. --'Nuff said. Lightly grease a 5 quart crock. Line bottom with parchment paper and lightly oil. In ...
Get Recipe
Spray crock with nonfat cooking spray. Whisk skim milk with dry pudding mix in slow cooker until dissolved. In a medium bowl, mix ...
Get Recipe
Slow Cooker Apple Pie Bread Pudding is a delicious recipe and it will have your home smelling just like fall! I've altered this ...
Get Recipe
Lightly grease slow cooker; place peaches in the bottom. Sprinkle with cornstarch; toss. Drizzle with vanilla and sprinkle brown sugar over all. Sprinkle ...
Get Recipe
One of my favorite things about this time of year is all of the yummy drinks there are to warm us up!  Slow ...
Get Recipe
Meet Jenn Bare
Jenn is the founder of GetCrocked, the #1 resource for slow cooking with over 1.5 million online followers. She innovates recipes daily with her favorite tool in the kitchen, the Crock-Pot® slow cooker.
She innovates recipes daily...
Jenn Bare is a Mom, Chef & the Crock-Pot® Girl. She hosts a weekly "Mom Monday" segment on ABC-15 in Phoenix.
Crockpot Books
Get Crocked: Fast & Easy Slow Cooker Recipes