desserts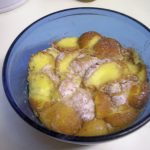 This recipe was shared from http://chefmichele.blogspot.com/2006/05/crock-pot-doughnut-pudding.html Put the doughnuts into a heat safe bowl (such as pyrex) and place the bowl in the ...

Slow Cooker Apple Pie Coffee Cake is a recipe I often make for a brunch! Mix ingredients for apple mixture in a bowl ...

I love Cheesecake of any kind how about you? If so you will love this recipe for Slow Cooker Pumpkin Cheesecake! Filling: Cream ...

I didn't discover the goodness that is in Bread Pudding until I was an adult. Boy, was I deprived as a kid! Since ...

Use a heat-resistant dish that fits inside of your stoneware insert (crock). Place it inside, using a cup or pitcher, pour water around ...

Slow Cooker Berry Dumplings are great as you can use any kind of berry you have on hand. They are a kiddo favorite ...

Meet Jenn Bare
Jenn is the founder of GetCrocked, the #1 resource for slow cooking with over 1.5 million online followers. She innovates recipes daily with her favorite tool in the kitchen, the Crock-Pot® slow cooker.
She innovates recipes daily...
Jenn Bare is a Mom, Chef & the Crock-Pot® Girl. She hosts a weekly "Mom Monday" segment on ABC-15 in Phoenix.
Crockpot Books
Get Crocked: Fast & Easy Slow Cooker Recipes