Tag:
bacon
Slow Cooker Seafood and Bacon Chowder is a hearty chowder that will become a repeat on your menu! Delicious! Chop the bacon and ...
Get Recipe
Make sure to invite friends and family over before consuming these hearty Slow Cooker Guinness Baked Beans, because this one feeds a crowd! ...
Get Recipe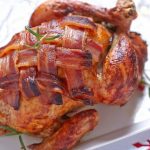 Last Thanksgiving our friends from Cackle & Oink BBQ shared a bacon-wrapped turkey that looked divine!  Unfortunately, Cackle & Oink is all the ...
Get Recipe
Do you love Cheesy Bacon Spuds? Then you will love Slow Cooker Cheesy Bacon Potatoes!  Make this recipe with thinly sliced potatoes, quartered ...
Get Recipe
Chicken?  Check?  Flavor? Check!  Ready to impress the in-laws sort of dish?  Check!  Enjoy this recipe for Slow Cooker Wine Braised Chicken. Place ...
Get Recipe
Everyone loves a hearty and healthy breakfast to start their day.  Why not assemble Slow Cooker Paleo Hash Brown Casserole the night before ...
Get Recipe
Meet Jenn Bare
Jenn is the founder of GetCrocked, the #1 resource for slow cooking with over 1.5 million online followers. She innovates recipes daily with her favorite tool in the kitchen, the Crock-Pot® slow cooker.
She innovates recipes daily...
Jenn Bare is a Mom, Chef & the Crock-Pot® Girl. She hosts a weekly "Mom Monday" segment on ABC-15 in Phoenix.
Crockpot Books
Get Crocked: Fast & Easy Slow Cooker Recipes