Tag:
beef
Sprinkle strips of sirloin with garlic powder to taste. In a large skillet over medium heat, heat the vegetable oil and brown the ...
Get Recipe
I like to make my own meatballs, and freeze them ahead of time for this recipe! Saves on very little prep time! Holidays ...
Get Recipe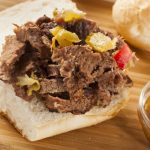 Place roast in slow cooker.  Cut 4 slits in top of roast.  Fill each slit with 1/2 tsp. salt, 1 garlic clove, and ...
Get Recipe
Full of Flavor! Slow Cooker Green Chili Stew is YUMMY! Brown onions, garlic, sirloin, and pork in oil in skillet. Cook until meat ...
Get Recipe
Mix everything together putting cabbage on top. Cook on Low 10 to 12 hours or High 6 to 8 hours. Variation: Can add ...
Get Recipe
Slow Cooker Italian Beef Spaghetti is best if served with Parmesan cheese and a basket full of bread or garlic bread! Yum! In ...
Get Recipe
Meet Jenn Bare
Jenn is the founder of GetCrocked, the #1 resource for slow cooking with over 1.5 million online followers. She innovates recipes daily with her favorite tool in the kitchen, the Crock-Pot® slow cooker.
She innovates recipes daily...
Jenn Bare is a Mom, Chef & the Crock-Pot® Girl. She hosts a weekly "Mom Monday" segment on ABC-15 in Phoenix.
Crockpot Books
Get Crocked: Fast & Easy Slow Cooker Recipes