Tag:
chicken
Happy to share this Slow Cooker Low-Calorie Chicken Gumbo from my Mother-in-law. While on Weight Watchers she made it often, and because it ...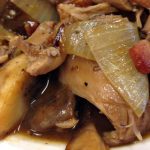 This is a delicious and traditional French recipe that includes two of my favorite things - Chicken & Wine!  (literal translation is "Rooster ...

Slow Cooker Chicken and Vegetables is a great meal for any season, and so easy to prepare. Better yet very healthy! Cut chicken ...

My hubby is a fan of Almonds and so this recipe makes him happy. Slow Cooker Honey Almond Chicken is so easy to ...

Growing up my husbands Grandmother made Slow Cooker Chicken Tetrazzini every time they went on vacation to the lake. A great memory of ...

Slow Cooker Tortilla Soup is one of my family favorites, and although I have other recipes on my website, just had to add ...

Meet Jenn Bare
Jenn is the founder of GetCrocked, the #1 resource for slow cooking with over 1.5 million online followers. She innovates recipes daily with her favorite tool in the kitchen, the Crock-Pot® slow cooker.
She innovates recipes daily...
Jenn Bare is a Mom, Chef & the Crock-Pot® Girl. She hosts a weekly "Mom Monday" segment on ABC-15 in Phoenix.
Crockpot Books
Get Crocked: Fast & Easy Slow Cooker Recipes