Tag:
peppers
My sister recently visited and shared her recipe for Slow Cooker Spicy Steak Fajitas. They have the perfect level of spice. We all ...

This is a delicious Spanish recipe, and one that is especially popular in Cuba. It is delicious, and you will truly enjoy the ...

Who doesn't love steak? Even if you're not a huge fan, You'll still enjoy steak made in a Slow Cooker! (tender, juicy, and ...

Slow Cooker Beef and Couscous Stuffed Peppers and so Easy. Great to serve with just a side salad and your meal is complete ...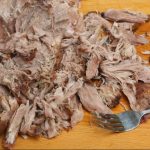 If you are looking for that recipe to serve guests that will have them saying WOW… This is it, Slow Cooker Guisado Verde! ...

Meet Jenn Bare
Jenn is the founder of GetCrocked, the #1 resource for slow cooking with over 1.5 million online followers. She innovates recipes daily with her favorite tool in the kitchen, the Crock-Pot® slow cooker.
She innovates recipes daily...
Jenn Bare is a Mom, Chef & the Crock-Pot® Girl. She hosts a weekly "Mom Monday" segment on ABC-15 in Phoenix.
Crockpot Books
Get Crocked: Fast & Easy Slow Cooker Recipes