Tag:
stew
We have been eating a lot of beans around here! My friends at Hurst's Beans sent me a bunch of different beans to ...

It's a new year and what better time to make a delicious pot of soup to simmer all day and enjoy with family ...

In need of the perfect hearty warm-up this winter? Look no further than this easy and delicious Slow Cooker 15 Bean Tomato & ...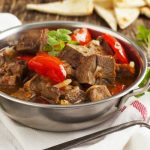 This delicious and EASY Slow Cooker Paleo Lamb Stew is unique and full of flavor! Lamb is so delicious when slow cooked but ...

Put a new twist on St. Patrick's Day with this delicious stew combining two of my favorites - Hurst's HamBeens® 15 Bean Soup® ...

Meet Jenn Bare
Jenn is the founder of GetCrocked, the #1 resource for slow cooking with over 1.5 million online followers. She innovates recipes daily with her favorite tool in the kitchen, the Crock-Pot® slow cooker.
She innovates recipes daily...
Jenn Bare is a Mom, Chef & the Crock-Pot® Girl. She hosts a weekly "Mom Monday" segment on ABC-15 in Phoenix.
Crockpot Books
Get Crocked: Fast & Easy Slow Cooker Recipes