Tag:
Thanksgiving
Oh so easy, and now you can have Apple Pie for the slow cooker.... Slow Cooker Apple Pie! Toss apples in a bowl ...
Get Recipe
My favorite time of the year, and when I smell the wonderful aroma of pumpkin and cinnamon from the kitchen I can't help ...
Get Recipe
Slow Cooker Warm Pumpkin Dip is a great recipe for a little slow cooker (like the Little Dipper seen here.). Most little Crocks ...
Get Recipe
This is a great recipe to make ahead and have ready for your guests...it's very rich and so delicious! Enjoy this Slow Cooker ...
Get Recipe
Very Yummy recipe, and one the kiddos will love too…Slow Cooker Baked Stuffed Apples! Wash, core and stem the apples, but don't peel ...
Get Recipe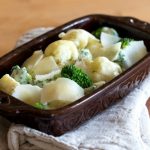 This is the perfect way to get the kiddos to eat their veggies! Moms and Dads love this recipe, too! Place broccoli and ...
Get Recipe
Meet Jenn Bare
Jenn is the founder of GetCrocked, the #1 resource for slow cooking with over 1.5 million online followers. She innovates recipes daily with her favorite tool in the kitchen, the Crock-Pot® slow cooker.
She innovates recipes daily...
Jenn Bare is a Mom, Chef & the Crock-Pot® Girl. She hosts a weekly "Mom Monday" segment on ABC-15 in Phoenix.
Crockpot Books
Get Crocked: Fast & Easy Slow Cooker Recipes