Healthy
Place the celery, onion, garlic, and parsley in the bottom of your slow cooker. Heat the oil in a large frying pan over ...
Get Recipe
Heat a large skillet over medium-high heat. Brown the sausage and crumble.  Set aside on a paper towel-lined plate to absorb grease. Grease ...
Get Recipe
It's no secret that beets pack a powerful nutritional punch. Try them "roasted" in your crock for a classic holiday side dish or ...
Get Recipe
Kick up that same-old stir-fry with a citrus twist! I love this meal - it's so tasty and super easy to prepare and ...
Get Recipe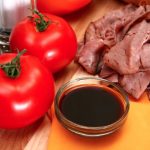 For those of you looking for a recipe that is Very Low in saturated fat, No cholesterol, Low in sodium and no sugar ...
Get Recipe
Slow Cooker German Sauerbraten is a wonderful dish, although you must plan ahead, I know you will be delighted. Great served on buttered ...
Get Recipe
Meet Jenn Bare
Jenn is the founder of GetCrocked, the #1 resource for slow cooking with over 1.5 million online followers. She innovates recipes daily with her favorite tool in the kitchen, the Crock-Pot® slow cooker.
She innovates recipes daily...
Jenn Bare is a Mom, Chef & the Crock-Pot® Girl. She hosts a weekly "Mom Monday" segment on ABC-15 in Phoenix.
Crockpot Books
Get Crocked: Fast & Easy Slow Cooker Recipes