soups & sauces
Combine these basic staple pantry ingredients together in the morning, and come home to a hearty sauce in the evening.  Easy and delicious! ...
Get Recipe
Slow Cooker Turkey & Cajun 15 Bean Soup® will now be on my holiday traditions list.  Everyone loved it that much! Thanksgiving was a ...
Get Recipe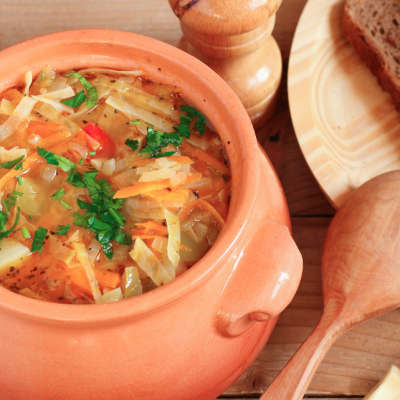 Several years ago I was one of many people who went on a diet called the Cabbage Soup Diet. While I wasn't so ...
Get Recipe
There is something about Sausage, White Bean and Kale Soup that just gives me that comfort feeling. Hope you like this comfort soup ...
Get Recipe
Crab is so versatile; it works well in soups and stews, pasta dishes, and of course-crab cakes!  I like to stock up when ...
Get Recipe
On a recent ski trip I had the pleasure of warming up with some delicious soup. I loved the blend of vegetables and ...
Get Recipe
Meet Jenn Bare
Jenn is the founder of GetCrocked, the #1 resource for slow cooking with over 1.5 million online followers. She innovates recipes daily with her favorite tool in the kitchen, the Crock-Pot® slow cooker.
She innovates recipes daily...
Jenn Bare is a Mom, Chef & the Crock-Pot® Girl. She hosts a weekly "Mom Monday" segment on ABC-15 in Phoenix.
Crockpot Books
Get Crocked: Fast & Easy Slow Cooker Recipes