appetizers
Warning:  You will devour these Asian-flavored ribs in seconds!  Good thing it only takes a few minutes to prepare these amazing ribs. Place ...
Get Recipe
TIPS and TRICKS Have you ever bought frozen bread and forgot to pull it out of the freezer? Of course it takes all ...
Get Recipe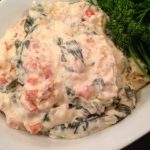 I've made this recipe so many times and I finally tweaked it to be perfect (in my mind at least!)  The original recipe ...
Get Recipe
This recipe for Slow Cooker Barbecue Chicken Wings or Drum Sticks (otherwise called Drummies), can easily be doubled or even tripled with a ...
Get Recipe
Great to make Slow Cooker Party Mix ahead of time, and put it back in the crock pot to serve warm! A guest ...
Get Recipe
Need a dessert that's as EASY as it is SWEET? Whip up some Slow Cooker Apple Bread, and you'll be a hit with ...
Get Recipe
Meet Jenn Bare
Jenn is the founder of GetCrocked, the #1 resource for slow cooking with over 1.5 million online followers. She innovates recipes daily with her favorite tool in the kitchen, the Crock-Pot® slow cooker.
She innovates recipes daily...
Jenn Bare is a Mom, Chef & the Crock-Pot® Girl. She hosts a weekly "Mom Monday" segment on ABC-15 in Phoenix.
Crockpot Books
Get Crocked: Fast & Easy Slow Cooker Recipes