breakfast
Slow Cooker Banana Nut Bread is great for Breakfast or served with afternoon snack or Dessert. Sift together the flour, baking powder, baking ...
Get Recipe
Slow Cooker Creme Brulee French Toast is as much a dessert as it is a breakfast! Cube bread and place in a large ...
Get Recipe
Layer ingredients in a 5 quart slow cooker starting with half of the tater tots.  Follow with half each of the bacon, onions, green ...
Get Recipe
Frittata's are so easy to make in the slow cooker, especially this Slow Cooker Spinach and Cheese Frittata! Ingredients I usually have on ...
Get Recipe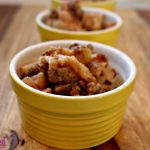 Slow Cooker Breakfast Bread Pudding is a delicious way to use up that leftover french bread from dinner! This breakfast is good all ...
Get Recipe
My family loves a tasty hot breakfast, and this Slow Cooker German Pancake is so easy and quick. I usually put everything in ...
Get Recipe
Meet Jenn Bare
Jenn is the founder of GetCrocked, the #1 resource for slow cooking with over 1.5 million online followers. She innovates recipes daily with her favorite tool in the kitchen, the Crock-Pot® slow cooker.
She innovates recipes daily...
Jenn Bare is a Mom, Chef & the Crock-Pot® Girl. She hosts a weekly "Mom Monday" segment on ABC-15 in Phoenix.
Crockpot Books
Get Crocked: Fast & Easy Slow Cooker Recipes