breakfast
Place the apples in the slow cooker. Sprinkle lemon juice over top apples. Combine the sugar, cinnamon, and cloves in a small bowl ...
Get Recipe
If you're like me, the mornings can be a little chaotic around the house! One way that we stay a little bit more ...
Get Recipe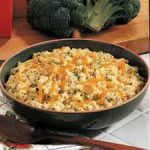 My daughter loves broccoli, so occasionally we have Slow Cooker Egg and Broccoli Casserole for a brunch and we all love it! Combine ...
Get Recipe
You may have made breakfast casserole in a slow cooker before but I love this recipe more than most because I've incorporated fresh ...
Get Recipe
This is Kim M's Slow Cooker Grandma Clo's Cheesy Grits… Kim said when she recently made it for an office party, the recipe ...
Get Recipe
Slow Cooker Cheesy Breakfast Soufflé is an easy and tasty alternative to making eggs in the morning. I usually have all of the ...
Get Recipe
Meet Jenn Bare
Jenn is the founder of GetCrocked, the #1 resource for slow cooking with over 1.5 million online followers. She innovates recipes daily with her favorite tool in the kitchen, the Crock-Pot® slow cooker.
She innovates recipes daily...
Jenn Bare is a Mom, Chef & the Crock-Pot® Girl. She hosts a weekly "Mom Monday" segment on ABC-15 in Phoenix.
Crockpot Books
Get Crocked: Fast & Easy Slow Cooker Recipes