breakfast
Slow Cooker Banana Bread is so easy to make and a great way to use up those ripe bananas. (the riper the better! ...
Get Recipe
If you like something warm for breakfast and a true comfort food, you will love Slow Cooker Southern Creamy Grits! In a glass ...
Get Recipe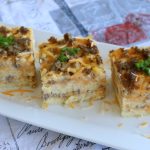 This is the easiest breakfast casserole recipe for the slow cooker and it is SO tasty! Slow Cooker EASY Breakfast Casserole has only ...
Get Recipe
Frittata's are so easy to make in the slow cooker, especially this Slow Cooker Spinach and Cheese Frittata! Ingredients I usually have on ...
Get Recipe
I LOVE cinnamon rolls! I've actually heard there was a study done and the scent that men loved more than anything else was ...
Get Recipe
Cook sausage in a skillet over medium heat until no longer pink. transfer to a paper towel-lined plate to absorb any excess grease ...
Get Recipe
Meet Jenn Bare
Jenn is the founder of GetCrocked, the #1 resource for slow cooking with over 1.5 million online followers. She innovates recipes daily with her favorite tool in the kitchen, the Crock-Pot® slow cooker.
She innovates recipes daily...
Jenn Bare is a Mom, Chef & the Crock-Pot® Girl. She hosts a weekly "Mom Monday" segment on ABC-15 in Phoenix.
Crockpot Books
Get Crocked: Fast & Easy Slow Cooker Recipes