vegetarian
Making your own Pizza Sauce will not only have the kiddos raving, but the adults too. And when you make Slow Cooker Homemade ...
Get Recipe
Slow Cooker Black Bean Dip is a delicious recipe shared by Christina H. on GetCrocked  Facebook page.  Thanks Christina! In food processor dice up ...
Get Recipe
Slow Cooker Lemon-Poppy Seed Bread has such a cool and refreshing flavor to it... Just has to be one of my favorite flavors! ...
Get Recipe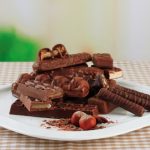 Not sure what to do with all that Halloween candy? This is a great recipe to get rid of the leftover candy without ...
Get Recipe
The traditional winter comfort staple gets a Latin update in this delicious Slow Cooker Southwestern Potato Soup. Place the potatoes in a 6-Quart ...
Get Recipe
Rinse your pinto beans, removing any sand or rocks that can be found in beans. Add the beans, onions, garlic, poblano, cumin, salt, ...
Get Recipe
Meet Jenn Bare
Jenn is the founder of GetCrocked, the #1 resource for slow cooking with over 1.5 million online followers. She innovates recipes daily with her favorite tool in the kitchen, the Crock-Pot® slow cooker.
She innovates recipes daily...
Jenn Bare is a Mom, Chef & the Crock-Pot® Girl. She hosts a weekly "Mom Monday" segment on ABC-15 in Phoenix.
Crockpot Books
Get Crocked: Fast & Easy Slow Cooker Recipes