vegetarian
Three of my favorite...Chocolate, Coconut and Peanut Butter! That is why I had to make the Slow Cooker Chocolate Coconut Peanut Butter Balls! ...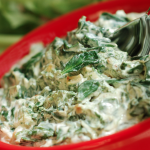 Combine the cream cheese and half and half in a bowl until well blended. Add the remaining ingredients and stir well. Pour the ...

Facebook friend Colleen A. R. shared a recipe with all of us.... Slow Cooker Chocolate Cake! Grease slow cooker with butter or non-stick ...

Here is another festive side dish for the holidays and one that the kiddos along with the adults love; Slow Cooker Cranberry Sweet ...

Place butter in a skillet over medium-low heat.  Once butter has melted, slowly sprinkle in flour and whisk. Continue whisking until a pale ...

Lightly grease slow cooker; place peaches in the bottom. Sprinkle with cornstarch; toss. Drizzle with vanilla and sprinkle brown sugar over all. Sprinkle ...

Meet Jenn Bare
Jenn is the founder of GetCrocked, the #1 resource for slow cooking with over 1.5 million online followers. She innovates recipes daily with her favorite tool in the kitchen, the Crock-Pot® slow cooker.
She innovates recipes daily...
Jenn Bare is a Mom, Chef & the Crock-Pot® Girl. She hosts a weekly "Mom Monday" segment on ABC-15 in Phoenix.
Crockpot Books
Get Crocked: Fast & Easy Slow Cooker Recipes